For the latest quotes for stocks on these lists, please see the AlphaTrade Quote Ticker ABOVE
or copy and paste the symbol to the LEFT into the
AlphaTrade Quote Box BELOW for more detailed quote information.
( If the scrolling ticker above is a blank white box, please hit the refresh button in your browser.)

CATEGORY:  Junior Zinc Exploration

Focus on junior zinc exploration throughout the world.

List updated: 02/17/11

List Date(Price)

Symbol
TSX=CA


Company Information

Website

CA;CZN

Canadian Zinc
Toll Free: 1-866-688-2001

Amex: MMG

Metalline Mining
Phone: 208-665-2002

 


03/01/07

CA;MTC

Metal Corp.
Phone: 807-346-2760


03/14/07(.56)

CA;SWN

Selwyn Resources
Phone: 604-682-5474

www.selwynresources.com


03/23/07(1.41)

CA;YZC

 Yukon Zinc
Toll Free: 1-877-682-5474


05/08/07

 CA;SEM

St. Eugene Mining
Phone: 604 669 5775


www.steugenemining.ca



05/08/07

 CA;SBB
OTC: SBBFF

 Sabina Silver
Phone: 807-766-1799

 CA;RRO

 Royal Roads Corp.
Toll Free 1-877-444-7774

 






Note: The numbers on the mining helmets DO NOT represent a real ranking system.
The order has more to do with timing than ranking !
Sometimes it's based upon how long we've been watching them.
The dates under the helmets are when we put them on our list.
ALL OF THESE COMPANIES ARE TOP 10 QUALITY,
and selected for their good management, property viability and profit potential.
The numbers on the helmets are more for graphics than ranking.

If you buy any of these stocks, or call the companies for more information,
PLEASE let them know you saw their stocks at Top 10 Mining Stocks.com

Please use this AlphaTrade link to get current quotes.
To check quotes on TSX Exchanges/Canadian Stocks, PLEASE ADD: CA; before the symbol.
( for example: SNS Silver tsx.v: SNS would be: CA;SNS for this AlphaTrade quote )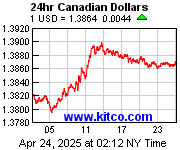 Disclaimer: The publisher and staff of Top10MiningStocks.com may hold positions in the securities of companies discussed or listed within our website. The information contained herein has been received from sources, which the staff deems reliable. Top 10 Mining Stocks.com (Top Mining Stocks, LLC) including staff and/or employees does not accept responsibility for the adequacy or accuracy of this information. The publisher and staff of Top10MiningStocks.com are not registered investment advisers and do not purport to offer personalized investment related advice. The publisher does not determine the suitability of the advice and recommendations contained herein for any reader. Each person must separately determine whether such advice and recommendations are suitable and whether they fit within such person's goals and portfolio. Once a company has been selected for one or more of our lists they may pay a fees for featured summary pages, spotlight reports and banner ads. Our staff determines which companies can be included in the Top 10 listings. The Top 10 Mining Stocks.com site does not allow companies to buy their way on to the lists. Advertising is only allowed for companies that are already on one of the Top 10 lists.